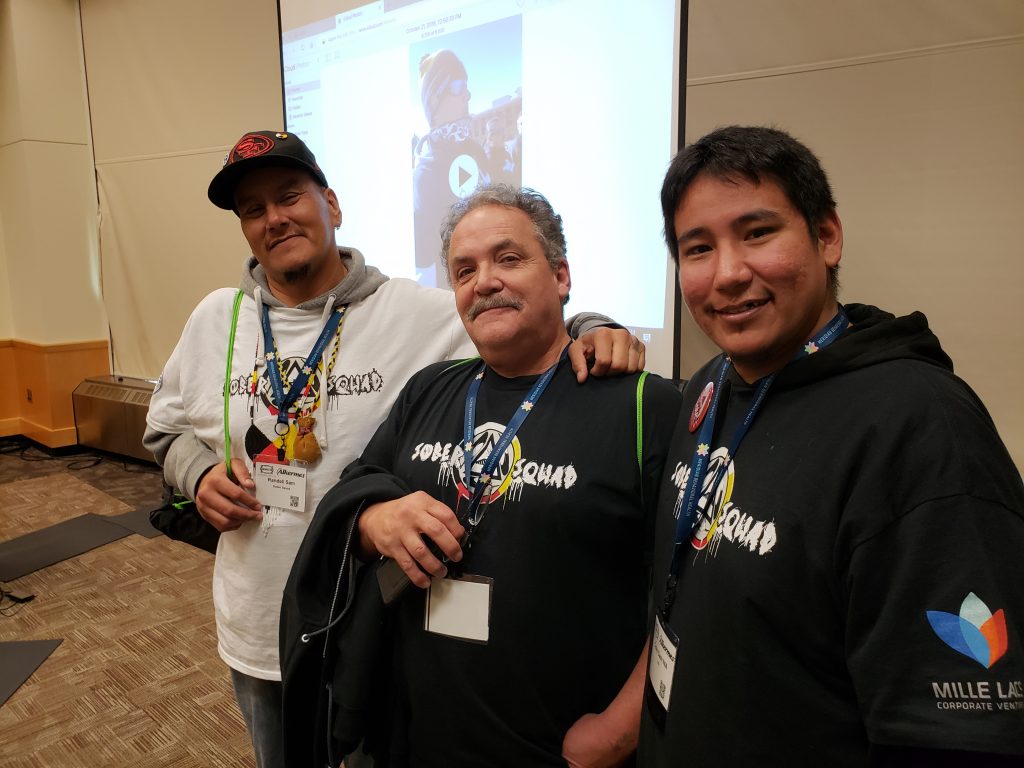 The annual Walk for Recovery is testament to the strength and generosity of the recovery community. Those of us in recovery from different recovery pathways, our families, allies, and the professionals who serve us come together to remember loved ones, celebrate recovery, and show the world that recovery works.  Each year, MRC is humbled by the outpouring of support and community strength that the Walk generates.
This year, our hearts were especially full of gratitude for a group of newcomers to the walk: Team Sober Squad. Led by Colin Cash, Sober Squad is a recovery community that originated on the Mille Lacs Reservation. One by one, Colin and other Squad members, such as Randell Sam and Gary Benjamin (featured to the left of Colin in the photo above), connect individuals to the hope of recovery. From accompanying people to meetings to Friday night pizza dinners to public parades, the members of Sober Squad are creating recovery in their communities. Through the efforts of Colin, Gary, Randell and others, Sober Squad now has chapters in Fond du Lac, Hinckley, Brainerd, and elsewhere beyond Mille Lacs.
Colin graduated from MRC's Recovery Coach Academy in May of this year. The experience, he says, increased his confidence and gave a stamp of approval to the work he had been doing in Mille Lacs.  Wanting to give back to MRC, he decided to fundraise for the Walk and organized a team.
All we can say is, WOW! Team Sober Squad broke the record for Walk Team fundraising and had a record 70-plus team members. Colin rented a bus to transport team members from Mille Lacs to Minneapolis on the day of the Walk and ordered special shirts for the day. "This is what I'm doing with the training you gave me," Colin told MRC. "I wanted to give back, to say to the world, hey, we're here, we are making recovery happen."
When people ask us what authentic peer recovery support services are, or what a recovery community organization does, we now respond with two words: Sober Squad. "Never underestimate the power of someone in recovery who wants to give back, " said Colin. Thank you from the bottom of our hearts, Sober Squad. You are what recovery looks like.
To learn more about Sober Squad, check out this blog post from our friends at Recovree or this recent article in the Brainerd Dispatch.
And, we just want to say to Randy Anderson, the Walk for Recovery's perennial top individual fundraiser, thank you from the bottom of our hearts as well . . . and watch out for next year! Colin is on your heels!